Introducing The Friendly Internet Provider
DNA has launched an integrated marketing and advertising campaign to introduce Ziply to the Northwest, after the company completed a $1.35 billion acquisition of Frontier Communications' operations in Washington, Oregon, Idaho and Montana on May 1.
DNA is positioning Kirkland-based Ziply as a new kind of Internet, phone and TV provider, with a mission to deliver superior fiber optic service and the best online experience possible. To highlight what makes Ziply Fiber different from its competitors, DNA created a different kind of campaign, centered around the introductory message: Hi. We're Ziply Fiber. Nice to meet you.
DNA worked with company executives to create the new brand, including its name, identity, marketing platform and advertising. The friendly tone carries through all brand communications and designed to contrast the new brand with its more corporate competition.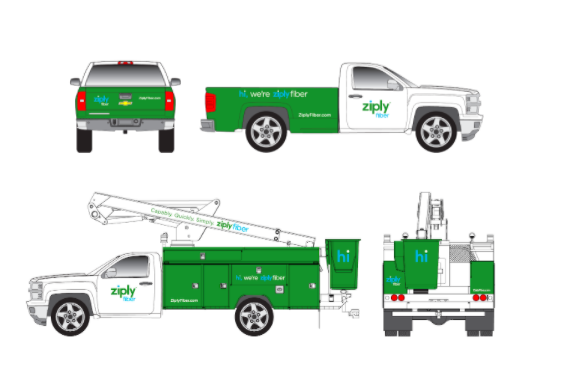 "The name Ziply has a distinctive personality that speaks to our approach to serving our consumers as humans—personably, dependably and with the best and fastest Internet service possible," explained Harold Zeitz, CEO at Ziply Fiber. "In launching our new brand, we wanted to show that we not only have the most technologically advanced fiber-optic network, but also tell a story to the marketplace about what it means to be a modern brand today and treat your customers right."
In developing the Ziply Fiber name, DNA explored ways to communicate speed in a way that was fresh and approachable. They took "zip," which spoke to the company's blazingly fast connection, and added the "ly" at the end, creating an adverb—ziply— that's reflective of how the company does business—honestly, capably, responsibly, quickly and enthusiastically. "Fiber" also was an important clarifier as it establishes the quality and reliability of the delivery system.
"Ziply Fiber is offering a simpler, more human experience than the big corporate players, and that experience begins with what you call it and what the brand looks like," said Steve Williams, executive creative director at DNA. "The name sounds friendly and approachable, and the clean, modern design makes you feel good right from the start."
The initial launch ads let people know they can say "goodbye" to the frustrations of typical Internet service, and "hello" to a better experience.  Viewers follow a white dot that represents a fiber-optic cable. This white dot that takes the viewer through the world of a fiber-optic cable literally zips through space into a home, where it connects to a typical home network.
"The dot is an icon that becomes the guide through the Ziply brand and represents a window into the world that fiber optics can deliver," explained Noel Nickol, creative director at DNA, "In the advertising, the Ziply dot shows you everything Ziply excels at, from streaming content, to video games to network reliability. It also has an uncomplicated quality that comes from being hand-illustrated to evoke a more approachable feeling, amplified by a fresh green and blue color palate."
The dot is carried through all branding elements, from the dot above the 'i' in Ziply, to the trucks, the signage, and even the mural inside the company offices.
"The marketing approach really captures the spirit of our brand as one that is technologically advanced, refreshingly different from others in this space, and with local, Northwest attitude and knowledge," said JB Williams, director of Marketing at Ziply.
Ziply Fiber was founded by a team of former Wave Broadband executives who set out to build a new kind of Internet company. It has committed to investing more than $500 million to upgrade the existing network and to bring fiber connectivity to communities throughout the region, many in smaller and/or rural areas who have never before had access to this type of service. Today, slightly more than 30% of businesses and homes in the four-state region have easy access to Ziply's fiber-optic services and the company intends to grow that to nearly 85% in the next few years, much of it in the next year or two.